Guided Hunts
No Off Season offers guided high volume varmint hunting in the Sage Rat Capital of the world.  No Off Season is accepting reservations for the 2018 sage rat "season". These hunts are on exclusive, private property. No hunting license is required.
A guide, shooting benches and rests are provided. Just bring your favorite varmint rifles, optics and lots of ammo! Rimfires as well as centerfire rifles are welcome on this unique property which is located adjacent to a large tract of grazing land making for safe shooting opportunities. These hunts can provide hundreds of shots per day.
Kids with hunter safety training are welcome. This is a great opportunity to introduce new shooters to hunting and enough action to keep even your die-hard video game junkies interested.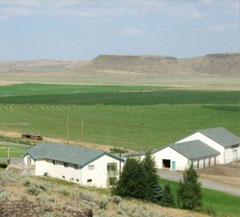 The best times for sage rat hunting are late March through May. Our calendar is limited so if high volume shooting in a target rich environment appeals to you, you owe it to yourself to make your reservation today.
No Off Season's exclusive, high volume varmint hunts take place near Crane, Oregon, The Sage Rat Capitol of the World. Sage Rats (Belding's Ground Squirrels) are small, highly prolific animals that provide huge numbers of targets approximately 1/3 the size of prairie dogs.  Shooting takes place from point blank to the limits of the practical accuracy of your rifle.  The .22 LR and .17 HMR rule during the peak of the population but many hunters enjoy the added range and flat trajectory of their centerfire varmint rifles and AR15's.
(Please note: Due to ricochet hazard, full metal jacket (FMJ) ammunition is NOT allowed, including ball and green tip ammo.)
A guide, shooting benches and rests are provided. Lunch is served daily on site.  Just bring your rifle, optics and LOTS of ammo! Although this property can handle a number of shooters easily, we limit total hunter numbers to ensure a quality experience so book early to get the dates you prefer.
(Coyote and rockchuck hunts available at modified rates. Check with us on prices.)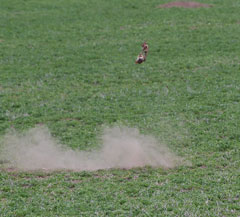 Other Attractions
History abounds around the area. Visit the Peter French Round Barn and Visitors Center or tour the P Ranch headquarters on the Malheur National Wildlife Refuge near Frenchglen, Oregon. The Hotel Diamond offers excellent dinners in another historic setting. Nearby Crystal Crane Hot Springs offers relaxation in both an outside pool and private hot tub rooms. 
Come for some fast paced shooting and some slow paced country living. The best of both worlds is available with your reservations at No Off Season. Register now!
Hunt Rates
Guided hunts with your own accommodations:
$275/day
Per person
Additional non-hunting guest (lunch included):
$25/day
Per person
If you would like to make reservations or need more information, please complete the following form or call Tim at (541) 589-0030. 
Accommodations
A Bed and Breakfast, continental style, is available on the primary ranch property for your convenience. This unique arrangement allows our guests the flexibility of resting their trigger fingers in their own private room. Satellite WiFi is available and cell phone service, while limited, can be found in this secluded area. Dinners are no-host at the location of your choice or a barbeque is available with your room for B&B clients. Bring a cooler and make yourself at home!
To reserve your room at the Bed and Breakfast email titusranch5@gmail.com or call (541) 589-4196. You may also visit their website at www.www.titusranchhc.com