No Off Season is back from our first-ever major trade show, The Pacific Northwest Sportsman's Show, held at the Expo Center in Portland, Oregon.After finding out No Off Season was headed for Portland, a friend of mine who has done many trade shows in another industry asked if we shouldn't maybe go to Eugene or Central Oregon for our first show.I simply replied, "No.Portland is our market."The PNW Sportsman's Show is billed as "The Biggest Sports Show West of the Mississippi" with an attendance of some 60,000 to 70,000 people.They expected 25,000 people through the doors on Saturday alone!Talk about jumping in with both feet!To top it off, after a very busy winter, we didn't pull the trigger on this venture (or adventure) and secure our booth until a week prior to the show opening.Needless to say between ordering supplies and materials, arranging printing, ordering an additional banner, arranging travel and accommodations, packing displays and inventory and all the other small things it takes to set up an effective booth, it was a challenge just to get to the Show.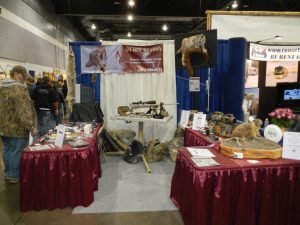 John Collett, my sales rep for the show, was extremely helpful and secured a great booth for us.  NOS had a corner location at the end of an aisle giving us extra room to interact with the public and display the NO Off Season wares.And, interact with the public we did!Thank you to all of the great people who stopped by and waited patiently to learn about our hunts and our products.And, my apologies to those who stopped and weren't able to stay long enough for us to meet you.We really appreciate the overwhelming support and attention you all paid to our display.Sales and bookings exceeded our expectations.We are just now coming up for air after booking the many hunts and shipping the many orders for products that were placed at our booth and on-line after the show!
The taxidermy mount of Ben's 1044 yard rockchuck was a real hit as was the fluttering MOJO Critter and Jack Attack decoy. The long range rifle display caught the eye of many of the hardcore shooters at the show.I joked that by the end of the first day my MOJO decoy had already attracted more hunters than it ever had coyotes but then it was in front of more hunters in a single day at the PNWSS than it ever had been on coyotes!Interacting with so many predator hunters and varmint shooters was a treat for us.We learned a lot about the products that drew special interest and those that are better served with on-line marketing.And, the calendar has filled significantly with sagerat hunters interested in an above-average varmint shooting experience.I'm already looking forward to next year's event. A little experience goes a long way and even with the overwhelming success of this show, we hope to be even better prepared to take care of our customers the next time around.Without you, No Off Season is nothing!
Thanks to O'Laughlin Trade Shows for putting on an outstanding event and a special thanks to my wife, Lori, and to my son, Ben, for all the hard work and help you both were in making this happen.You guys are awesome! No Off Season has offered to do seminars for the 2013 Show on either Coyotes 201: Advanced Tactics or Long Range Varmint Hunting.Let O'Laughlin Trade Shows know if you like the idea of one or both topics.The e-mail address is info@otshows.com or call them at 503/246-8291.Let them know you are interested in Tim Titus and No Off Season doing some seminars.
Thanks again for your support and for your business!