My son, Ben, is my varmint hunting partner.  I'm not sure if the relationship will last when he has enough gas money to strike out on his own but, for now, its working.  We had a nice day on tap so we set out to look over some new rockchuck country.  The day turned into a mix and match of varmints and rifles as events unfolded and we adapted to what the day provided.
As we four-wheeled through the desert, we glassed likely looking areas for rockchucks.  Unless we spot several rockchucks, we usually just keep hunting allowing the singles or doubles a chance to propagate.  Eventually we spotted a number of 'chucks scattered among some rocks in a sage basin.  This wasn't typical rockchuck habitat with a rim and scattered boulders on a hillside.   But we take it as we find it and Ben got out his .17 Fireball to try for the first 'chucks we found that were within 250 yards of our location.
Ben shoots 25 grain Hornady hollowpoints and, more recently, 25 grain Berger Match Varmint bullets from his .17.  These do double duty on varmints and predators so even though there is not as much splat factor for the red mist crowd, it allows him shoot one load from his rifle.  Ben took a couple of rockchucks from our first position then graciously offered to let me take one with his rifle since I had only brought my RF binos along.  The little Fireball was a pleasure to shoot and allowed me to take my first .17 centerfire varmint with virtually zero recoil.
From our initial vantage we began to glass further into the basin and saw a fair number of rockchucks out beyond 300 yards s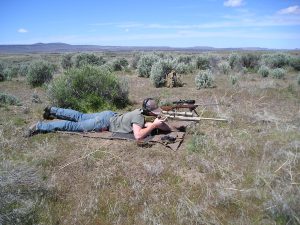 o we decided to go back to the truck for our longer range rifles.  I was in between scopes on my .243AI so I got my Cooper M21 Varminter in .204 out and Ben got out his M700 .243AI.  We skirted behind a low ridge and came over the top as if we were on a big game hunt and rolled out the shooting mat setting up just over the ridge.  After removing some grass from in front of the hide, we settled in and began to alternate shots from 365 yards to 475 yards.  The lone shot at 475 went just wide but we took several of the 'chucks from 365 to 425 yards.
When we felt we'd done enough damage to the local population, we went out to take a survey of our shots.  We took some photographs but were interrupted several times by jack rabbits as they moved through the sage.  Not to let a wayward varmint go to waste, I took several off-hand shots at the rabbits from 75 to 125 yards but I quickly learned that I needed to get off my bipod and do some more position shooting!  The rabbits were obviously not very wary as they would only run a few yards and stop thinking of fangs rather than bullets.  The couple that did meet with my 39 grain Sierra BlitzKings showed some serious splat factor.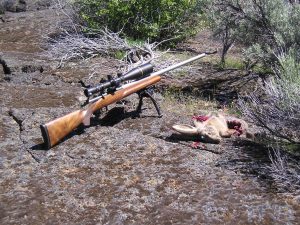 We returned to the truck and went a little farther down the two-track before sighting a rockchuck on a point of rocks at 545 yards.  This time we broke out the portable shooting bench from the back of the truck.  The wind was almost full value at 15 mph from left to right.  Ben doped it almost perfectly and his first shot went within inches of the rockchuck.  A quick adjustment and the second shot rolled the rockchuck off his perch.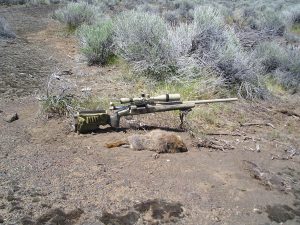 I glassed around while Ben went after his rockchuck carrying my Savage .17HMR.  Shots at jack rabbits sounded as he made his way out and back with his "trophy".  I found a few more 'chucks in the opposite direction so I turned the bench around and took a large one off a rock pile to the north with a perfect headshot.  When Ben got back, we traded shots on another rim to the east shooting at around 330 yards.  Again, Ben got some HMR shots at rabbits as we went out to bring back the rockchucks for a picture.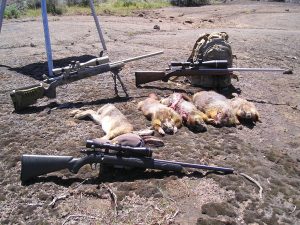 Some good times and some good shooting on a mix and match varmint day.  We left the sage rats alone for our guided hunt customers or we could have made it a varmint hunting trifecta.  There will be time for them later as there is No Off Season!